KLASVSA Electric Portable Heating Vibrating Back Massager Chair In Cushion Car Home Office Lumbar Neck Mattress Pain Relief Heat Vibrate Cushion Back Neck Massage Chair Massage Relaxation
Description: It has an elegant appearance, easy to carry, can be used on the sofa, chair, bed, etc External power adapter with international standards - safe and reliable Remote Control, Kneading, Vibrating, Far-Infrared Heating, nine Massage Motors. Feature:
1. Looks nice, wide application of the crowd.
2. Intelligent design, built-in high-frequency massage ball.
3. It can be controlled by pressing the corresponding key parts of a massage ball, to achieve personalized massage combinations.
4. Double-sided design to meet the needs of different aesthetics. Cover material is mutispandex.
5. May relieve discomfort and reduce pain, relieve fatigue, relax body and mind quickly.
6. To promote smooth body meridians, enhance immune cell activity and enhance brain self-regulation.
7. It can accelerate blood circulation, increase cellular oxygen supply, improving anemia, poor circulation has a good supporting role.
8. Frequently used as the human endocrine, and enhance skin elasticity, improve sleep and improve digestion with some support.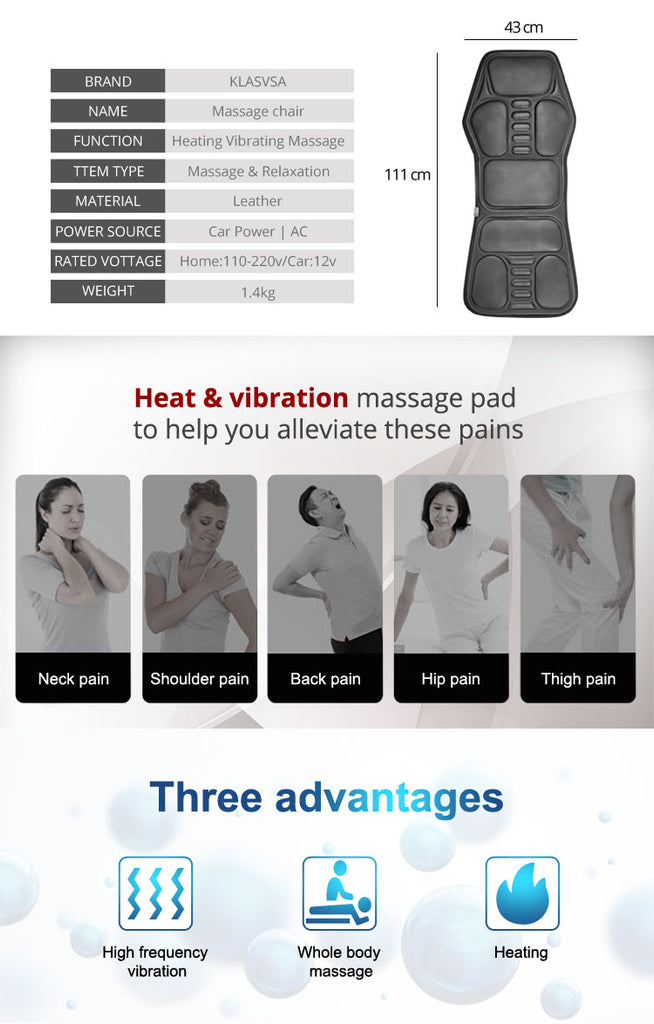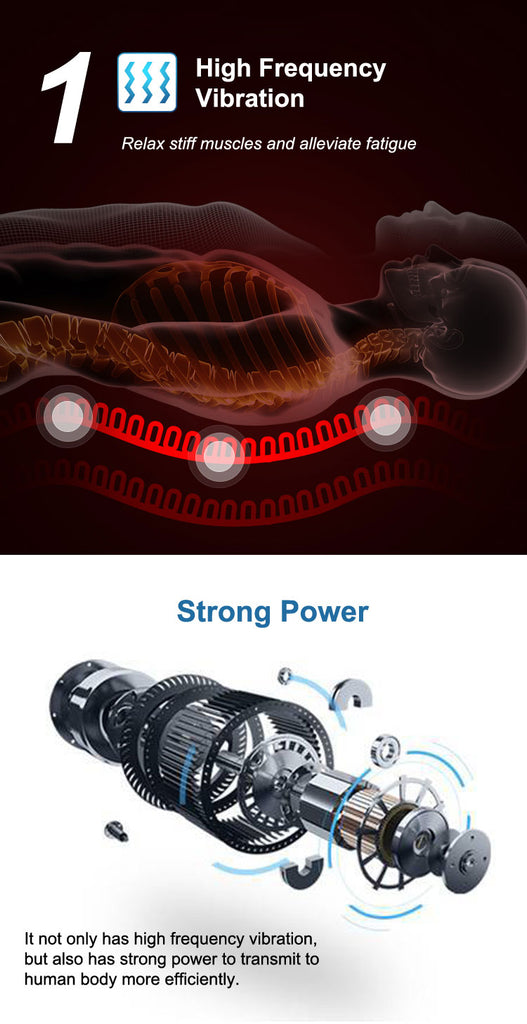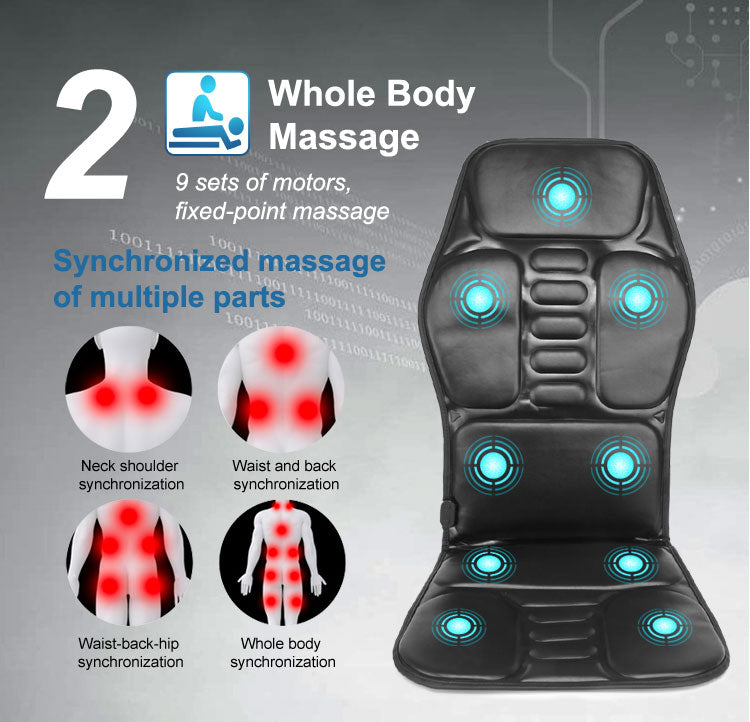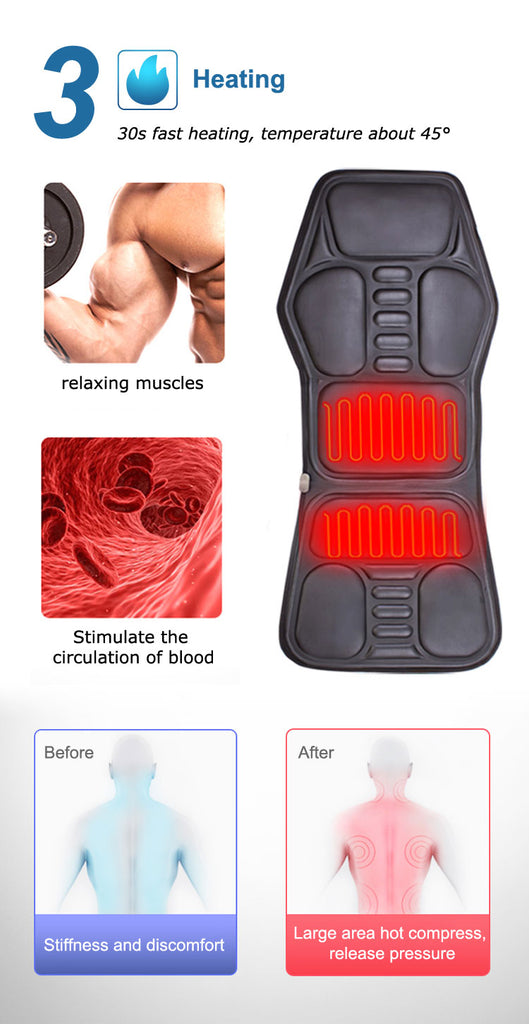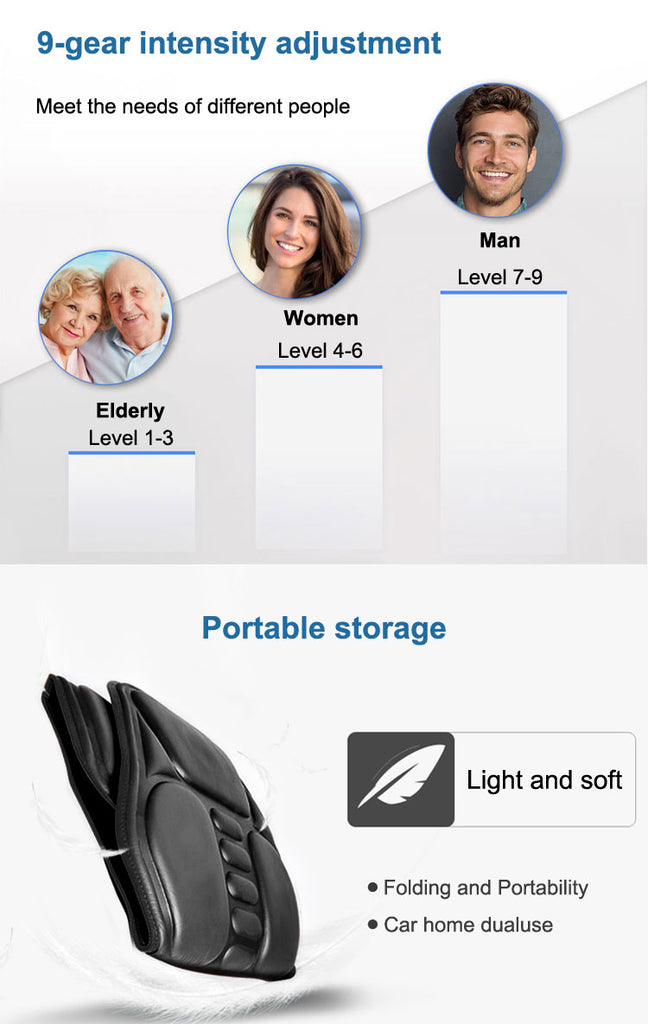 Brand Name: KLASVSA
Size: Medium
Item Type: Massage & Relaxation
Material: PU
Model Number: Back Massager Chair
Application: Body
Item Type: Massager Relaxation
Application: Back Waist
Material: PU
Feature: Electric Full Back Massager Chair Cushion
Function: Heating Vibrating Full Back Massage Chair
Voltage: 110-220V
Accasion: Home Car Office
Feature 1: Timing handheld remote control Heating Vibrating Massager Relaxation
Feature 2: Electric Full Back Massager Chair In Cushion
Feature 3: Car Home Dual Use Pain Relief Back Neck Waist Leg Heating Massager
Returns Policy
We offer high-quality products as well as helpful customer support. Please feel free to contact us for details. We are pleased to accommodate returns and exchanges within 14 days (weekends included) on all product if you're not satisfied. Your happiness is our ultimate goal.
The products must not be used in order to receive a full refund on our products. For authorized returns in good condition with the tag attached, we will refund or exchange the order within 14 business days with receipt included. A 15% restocking fee will apply to all returned products. Most returns can be processed within 2-7 business days after we receive your package.
Please reach out to our customer service team for any questions We pride ourselves on taking care of our EZindoor users. Feel free to contact us anytime with any issues, concerns or compliments. support@ezindoor .com or call (469) 663-0227
SHIPPING
All orders can take as fast as 2 days to arrive via USPS. *All prices listed on the website are in U.S. dollars. We support overnight (expedited) shipping via USPS. Products are shipped from our warehouse in Dallas, TX within 24 hours from ordering during M-F. Since USPS doesn't open on weekends, please allow up to 2 days for weekend orders.